© 2019 NLP Hypnosis Centre. 519-495-6405
NLP Hypnosis Centre, London, Ontario.
Olivier Hidalgo is Certified in Hypnosis, Conversational Hypnosis, Ho'oponopono, NLP, Mindfulness Meditation and Reiki.
Consulting Hypnotist. Ericksonian Hypnosis. NLP Master Practitioner. Reiki Master.
Mindfulness Master Practitioner.
Neuro-Linguistic Coach.
Member in Good Standing of National Guild of Hypnotists (NGH), NLP Global Standards and Sociedad Internacional de Hipnosis Clínica (SIHC)(Spanish).
151B York Street, London. Ontario, Canada
519-495-6405 (By Appointment Only).
Hypnosis – NLP – Life Coaching
Change your life. Learn Self Help Hypnosis. Learn visualization.

Become more positive, self-confident. Empower your life.

Change unhealthy habits and create positive ones.Stop smoking. Weight Management.
Free Consultation, call today 519-495-6405
Hypnosis, Mindfulness Meditation, NLP, Reiki, and Life Coaching. We are not a medical facility. We follow the regulations and laws in Ontario regarding Consulting Hypnotism and the recommendations of the NGH.
Act now, call 519-495-6405
NLP Hypnosis Centre. We use powerful mind power techniques to help you reach your goals, and to empower your mind-body balance. Hypnosis, Mindfulness Meditation, MBSR, NLP, & Reiki.
Company registered in Ontario, Canada. Photos by: canstockphoto.com and Roman Hidalgo
Powered By MicrosolutionsConsulting.com
Healthier, Happier, More Successful.

Call 519-495-6405 For A Free Confidential Consultation



We want to impact the world
and your life in a positive way
Whether you wish change negative situations in your life, create positive ones. Gain control over a specific issue like Stop Smoking, Manage Weight, become more relaxed and confident, we can help you.
Have you ever wondered how
powerful is your mind?









Call 519-495-6405 Today For
A Free Confidential Consultation.
Free Confidential Consultation
519-495-6405

Hypnosis is a natural process that you experience many times in a day. We can teach you and guide you in how to use it to reach your personal and business goals.
You will experience the power of your mind in as little as one session.

What is Mindfulness Meditation?
Mindfulness Meditation is adapted from the Buddhist practice of meditation.
Mindfulness Meditation is a practice of being fully focus and present in the moment. Being aware of the moment. It helps you to develop awareness, focus and attention.
Mindfulness Meditation helps you pay attention to the present moment – The Now.
By being aware, paying attention to the now, we grow our ability in how to act and why.
Many studies had showed that Mindfulness Meditation can be effective for the management of stress, panic, anxiety, depression, chronic pain, obsessive thinking and more.
What is Mindfulness-Based Stress Reduction (MBSR) is a a eight-week program created by Jon Kabat-Zinn in 1979.
MBSR is effective in reduction of stress, anxiety, chronic pain and depression.
MBSR helps you become more aware of the moment, the now, more aware of our reactions and therefore help us to interrupt negative reactions or "bad cycles".
Some of the benefits of Mindfulness Meditation and MBSR.
• Improved management of pain.
• Improved relaxation and sleep.
• Increase of energy.
• Improved decision-making.
• Less anxiety and depression.
• Increases resilience.
• Helps to relate better to others.
• Improved interpersonal skills.
From
Brief Summary of Mindfulness Research
Greg Flaxman and Lisa Flook, Ph.D.
While the majority of mindfulness studies have focused on adults, some pertain to the practice of mindfulness in children and adolescents. A series of studies have documented its use as an intervention for youth with psychological disturbances. In one 6-week study with anxious children, teachers reported an improvement in academic functioning and decrease in symptoms of anxiety in the children. Another utilized mindfulness-based cognitive therapy with the result of significantly reducing observable internalizing and externalizing symptoms. Over 80% of children and parents involved in this study thought that schools should teach mindfulness. A mindfulness intervention for several adolescents with conduct disorder resulted in a significant decrease in aggressive behavior.
Olivier is skillful and subtle in his use of technique. He was able to adjust his approach depending on the communication style and body language adopted by each of my family members. A great experience!
Family Hypnosis Session. Charles, London, Ontario. Canada.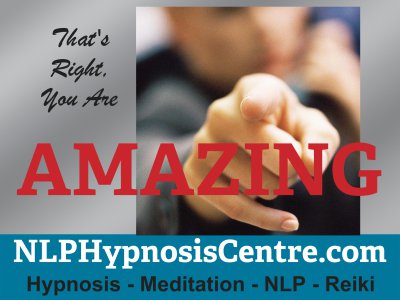 The power of subconscious mind was interesting. I felt more calm and relaxed than when I came in.
Emily, London, Ontario. Canada.
I loved. It relaxed me so much.
Carolina Alexandra, London, Ontario. Canada.
Hypnosis, Conversational Hypnosis, Consulting Hypnotism, Mindfulness Meditation, Neuro-Linguistic Programming(NLP), MBSR, Reiki, and NLP Coaching are mind power techniques for positive change and mind-body balance.